The Beauty Wishlist: Highlighters
September 08, 2016
Hello Sweeties! Among my many makeup obsessions, I've been really into highlighters recently. I feel like a good glow can really up your makeup game and I'm personally a big fan of them goddess cheekbones. So for the love of glow, I've managed to construct a list of some highlighting products I've been semi-drooling over recently.
Anastasia Beverly Hills Glow Kit Sun Dipped - NZD $55-60
These glow kits by Anastasia Beverly Hills have been super popular recently, and it's no question why. Firstly I think it's really good value for money - you're getting four highlighting powders for USD $40, which equates to only $10 a highlight. When you put the high end factor of ABH in I think this kit is such a reasonable price, and according to reviews it has an amazing formula to match. The swatches are so stunning, this kit in particular looks quite dark but when swatched the shades are a lot lighter. I want this kit like nothing else!
Benefit Watts Up - NZD $57
I've really been digging the cream product trend recently, I think cream products look so natural and have a stunning finish. This Benefit product has been a fan-favourite for so long and I would love to get my hands on it! An oldie but a goodie, this highlight looks right up my street. It has a really pearlescent, champgane tone and from the swatches I've seen it looks so beautiful.
Nars Copacabana Liquid Illuminator - NZD $53
A well loved product from the NARS range, I here endless good things abut this liquid highlight. The shade looks so pretty, it's a stunning pinky champagne highlight. It can be worn underneath makeup for an all over glow or as your cheekbone highlight. It's a pretty pricey product in NZ but I'm really considering the splurge - I mean come on, just LOOK AT IT!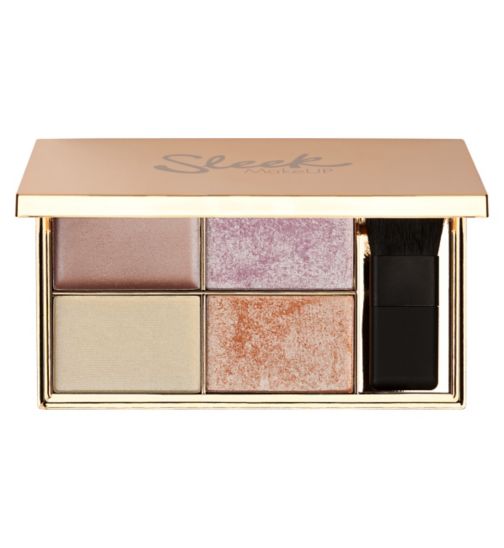 Sleek Highlighting Palette Solstice - NZD $27
I feel like drugstore highlights with decent quality are so difficult to find. But this palette by Sleek has been super hyped recently and it looks so unique and cool. The shade range is pretty different to anything I've seen before and the kit has a mixture of creams and powders which makes it seem perfect for travel. Sleek is a really affordable, good quality brand and this palette seems to be a new favourite of beauty bloggers and youtubers. I would love to try it out and see what all the hype it about!
Australis High Life Highlighting Powder - NZD $16.90
Another affordable product, although not super well known anything I have heard about this powder has been really good! I've tried a few Australis products and they seem pretty good. Their contour kit has been a favourite of mine for a long time, so it'll be interesting to see if their highlighting powder delivers!
What's your all-time favourite highlighting product?