USA Clothing & Stuff Haul
August 11, 2016


Hello Sweeties! Although a lot of my USA spending was down to makeup (see my two USA Makeup hauls here and here), I did purchase some clothing items that were super unique and different to NZ clothing. Like my other hauls, this is not a "show-off" post, I just wanted to share the things I bought so you guys could get some style inspiration or pick them up yourselves :)

Zara Mom Fit Patch Jeans - USD $15
These jeans have a lil bit of history too them. Any Zoella fans may recognise these jeans as she's worn them in a fair few vlogs. I have wanted jeans with patches on them for about 6 months, but since I could never find any I kind of gave up on the idea. Then I saw Zoella where these amazing blue jeans with big OTT patches on them in her shopping vlog (see that vlog here), and I fell in love with them. She said they were from Zara so I tried to find them online because I knew I was going to the states, but they said they were sold out. I pushed my dream jeans to the back of my mind. When I got to Zara in the states for the first time, I'm gonna be honest it looked like a jumble sale! Zara was obviously having a massive sale and everyone had been digging through the piles all day ( we went to the store about 4:00pm). The sale was so generous too, does Zara have those sales often? I was worried it was closing down at first the sale was so big! Anyway, as I'm digging through the piles I see the jeans. THE JEANS. Not only are they my dream style, they are the exact ones that my favourite youtuber has. Was there a reason not to buy them? Did I mention at the time they were down from USD $60 to USD $15? THAT'S 75% OFF! I was over the moon, I kept digging through the piles and found about five pairs in my size. BUT THERE WAS A PROBLEM. Since we were there so late, the changing room line was massive and wasn't budging. How much did I want those jeans? I was wearing a denim skirt with bike shorts underneath and I took my skirt off in the store to try them on. My shorts weren't super short or anything, it was appropriate but that's how much I wanted them! I love them so much and they're my favourite item of the lot. That's my jean story hahaha!
Zara Trafaluc stripe shorts - USD $9.99 - No Longer Available
These shorts are super cute, easy to wear Summer shorts. They fit so nicely and I'm a big fan of those bright hippy style prints when it comes to shorts.
Zara Trafaluc Print shorts - USD $9.99 - No Longer Available
I'm obsessed with these shorts, they're high waisted and black based, but have colourful embroidered prints all over. They're so different, I've never seen anything like them before!
Pacsun/Brandy Melville Tilden pants - USD $38 - No Longer Available - similar
I've wanted some striped pants for a while now. I love the way they look with some sneakers, t-shirt and denim jacket. These were from Pacsun but they are Brandy Melville brand, they're super comfortable and monochrome so they fit my wardrobe perfectly!
Pacsun/Brandy Melville Vodi Shorts - USD $15
These shorts are perfect for Spring/Summer; really simple, pretty go-with-everything sort of item. One thing that I find odd about Brandy Melville is how their items are one-size. We have few if any stores in NZ like that.
Abercrombie & Fitch Logo Graphic Fleece Shorts - USD $20
I picked these up in the A&F sale rack. I love these sort of shorts, I fell like they can be worn for both fashion or workouts. I probably wouldn't wear these for long exercise sessions just because they're fleece and you could get a bit hot in them.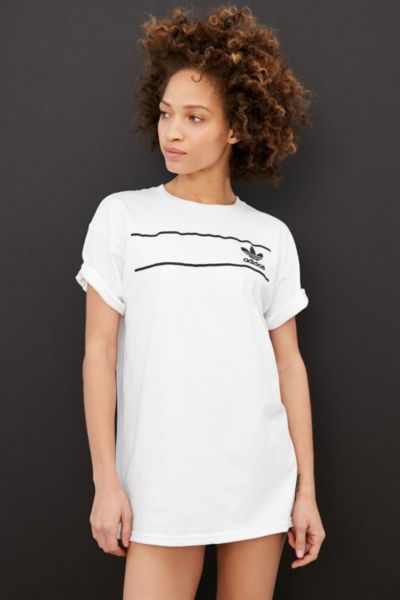 Urban Outfitters Original Retro Logo Tee - USD $35 (IS IN STORE!)
I have wanted an Adidas tee for a long time, but I wanted one that was a bit different. I've never seen this style before, it's really cool and quite subtle in the front. I love the two lines with the little logo in the corner, but on the flip side the big logo is on the back! It's a bit long for me but I love it tucked into jeans or shorts with a bomber jacket.
Pacsun/L.A Hearts Snap Me Skimmer T-shirt - USD $30
This is one of my new favourite shirts. I'm obsessed with graphic tees at the moment, I love this one because it goes with almost anything and although it;s so simple the little graphic in the corner makes it look a lot more unique. The material of this is also so nice, it feels so soft and silky.
Pacsun/John Galt Peachy Short Sleeve T-shirt - USD $28
Another favourite, I love this tee. Grey is a colour I really love but don't have a lot of, so I was super happy to add this to my wardrobe. I don't know a whole lot about US clothing brands but this is supposed to be quite good quality, and like the last tee it feels very luxurious. Well, if a T-shirt can feel luxurious!
Brandy Melville Peyton Denim Shirt - USD $25 - IN STORE ONLY
When it comes to denim, I'm a huge fan. I love the retro vibe this shirt gives, I think it will go with a ton of Summer and Winter outfits and I'm pretty much in love! It doesn't seem to be online but I think there's quite a few similar shirts available right now.
Forever 21 Striped Ringer Tee - USD $6
I know these are really easy to buy and available pretty much anywhere, but I got this because of the fit. Some shirts don't fit me super well because the arms will be too long or the length to short etc. This one is the perfect fit for me and will go so nicely under a pinafore or dungarees, or just with some denim shorts in Summer.
Forever 21 Mermaid Ringer Tee - USD $6 - No Longer Available
Oh wow, another plain tee with a corner graphic. That's a new one. Sorry, but they're my new favourite! I love how cute and simple this one is, plus with the crazy affordable price you really can't go wrong.
TOPS:
From left to right: Forever 21 Tie back top, Forever 21 striped Turtleneck crop top, Forever 21 Knit turtleneck crop top, Abercrombie split sleeve peasant top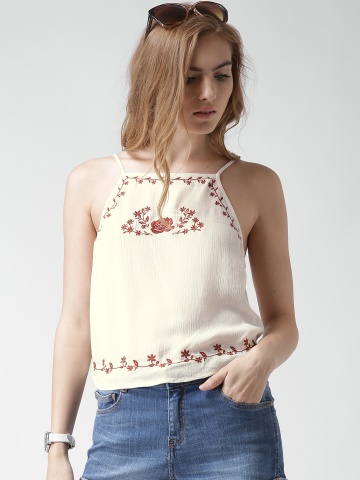 Forever 21 Embroidered Tie Back Top - USD $10 - in store only
This top is so pretty and a perfect Summer item. The sort that you throw on over some ripped denim shorts and look like you made an effort with your outfit. The sort that goes with a lot and is loose and lightweight. The embroidered roses are so pretty and the style is quite different to any tops I've seen, the tie up back is really flattering and cute.
Forever 21 Knit Turtleneck Crop Top - USD $7
These aren't particularly hard to find in NZ, but whenever I try them on the arm holes are way to big and they never fit right. All of these style tops from Forever 21 had perfect sizes for me, and I'm so glad because they're so easy to chuck on! I'm a all-round fan of turtlenecks, and this one is perfect for both Summer and Winter.
Forever 21 Striped Turtleneck Crop Top - USD $7
Very similar to the previous item. Well, basically the same! Exact same style but striped, because you can never have enough stipes! ( See my stripe edit post here).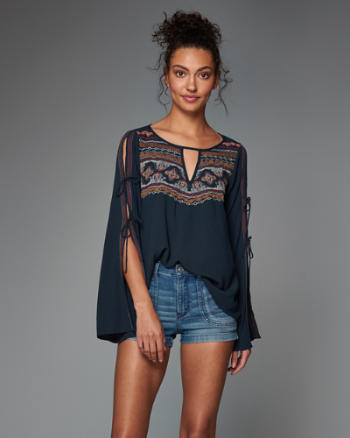 Abercrombie & Fitch Split Sleeve Peasant Top - USD $40
This was on sale and still pretty pricey, but it's so stunning I couldn't resist! This item is really unique, it's a lovely peasant style with tie up sleeves that are completely open from the elbow down. It looks so lovely on and the open sleeves mean it can be dressed up or down. The colour is beautiful and the embroidery on the chest is so pretty. Definitely one of my favourite pieces, I'm in love.
Abercrombie & Fitch Logo Sweatshirt - USD $30
I really couldn't go to Abercrombie and NOT get a logo jumper! I don't think this exact style is available anymore but A&F have such a range of logo items your bound to find something you like. This one was on sale and it was the only one left in my size. The quality is so so nice, it feels amazing and is really warm and cosy.
Victoria Secret PINK V-Neck Varsity Crew - USD $50 - My colour is no longer available
I was so excited to go to the PINK store in the states. Too long have I been staring at the awesome loungewear range the VS PINK store offers. I love this comfy sweatshirt, it's a bit oversized and super cosy. The material is really nice and I love wearing this on lazy days. This is orginally USD $50, but I got mine on sale for USD $30 which was a huge bonus!

Similar
Victoria Secret PINK zip hoodie - USD $40 - No Longer Available - similar
I love the PINK jacket range, they have a ton of different styles and fabrics to suit your style. This is a super lightweight plain white jacket that just says "LOVE PINK" across the middle. I love this because unlike my last VS item it's quite subtle and if the jacket is unzipped you can barely see the logo. Although I do love the OTT Pinkness of my other PINK item this one is great for when I want something more subtle. I love wearing this as both active wear and fashion.
Brandy Melville Bomber Jacket - USD $45 - In store only - similar
I'm obsessed with both bomber and denim jackets at the moment. I find they go with everything and can really dress up or dress down an outfit. There were a ton of cool denim jackets in the states but they're pretty easy to get in NZ so I went for this Brandy Melville bomber instead. It's so cool and retro, plus super warm and really comfortable. Obsessed!
Zara Patch T-shirt Dress - USD $17.99
Another amazing Zara item on sale, I love this dress so much! I love T-shirt dresses in general, they really suit my body type and are so easy to chuck on with a jacket and trainers. Continuing the patched theme, I love all the little patches on this dress. It makes it so different and cooler than your average T-shirt dress.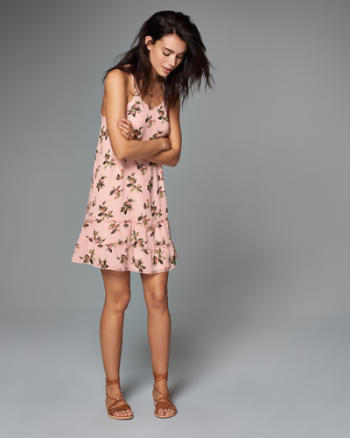 Abercrombie & Fitch Chiffon Ruffle Hem Dress - USD $35
Yet ANOTHER fave item of mine (I think I've said that for almost everything), I'm so in love with this dress. Swing dresses really work well for me and the ruffle edging on this one makes it a little more interesting. The floral print is just stunning, and I adore the criss-cross back detailing. I find dresses in NZ barely ever fit me (thank you America for having petite sizing), so I was so happy to finally find a pretty dress that wasn't down to my ankles!
SHOES AND ACCESSORIES:
Adidas Superstars - USD $79.99
I've wanted these shoes for absolutely ages and I finally took the plunge and splashed out on a pair! They're barely cheaper in the states but I saw them there and couldn't resist. I love how retro and classic these are, and they will be a sure staple for me from now on!
Brandy Melville Katherine California Cap -USD $15
I always struggle to find fashionable caps in NZ that aren't ridiculously overpriced. BM had a ton of cool styles and designs but I liked this one the most, monochrome colours so it'll go with everything plus I love the font and style. This way I can be sun safe and trendy at the same time ;)
Aeropostale Faux Leather Quartz Analog Watch - USD $36
I've wanted a rose gold watch for so long now, I used to own a really beautiful one from Equip (14th Birthday Haul - see that post here!), but I wore it to school once, took it off during cooking class and it got stolen. I was not happy. Luckily I found this beautiful one in Aeropostale which is even prettier than my last one and better quality, so I was pretty happy with that!
Aeropostale Rimless Rose Gold Aviators - USD $25
New sunnies were another item on my shopping list, and these aviators filled all the boxes for me! What more can you want in sunglasses to be honest?
Socks: Forever 21 & Brandy Melville
I'm really into funky socks right now too, and Forever 21 had a ton of cool designs for really cheap prices. The Smiley Face, French Bulldog, Cloud and Rad socks are all from Forever 21. I also loved these California socks from BM so I had to pick them up!
STUFF:
Santa Monica License Plate - USD $10
I purchased this from a little kiosk on the Santa Monica Pier. It's really cute and I have another couple of license plates from other places; I might just have to start a collection!
San Francisco Snow Globe - USD $10
I also really like snow globes, I have a few from other places too, and this one was so cute I had to buy it.
Disneyland Minnie Mouse Plush Ears - USD $20
You can't go to Disney and not buy these. It was the very first thing I did in Disneyland and they look so adorable in my room now!
Disneyland Beauty and the Beast Mug - USD $21.95
I kind of have an obsession with mugs, and the selection at Disneyland was insane. I love this Disney mug, it's so cute and looks exactly like the teacup from Beauty and the Beast.
Charms
Oh wow look at that another thing I collect! I got one charm from Disneyland, two from Universal and a little tram charm from San Francisco. They're all so so cute and going straight to my charm bracelet!
Universal Studios Harry Potter Luna Lovegood Wand - USD $40
okay this was kind of an impulse buy and even though I like Harry Potter I probs didn't need a wand. But then again Luna Lovegood is one of my all-time favourite characters and her wand was really pretty, so I had to buy it. I can't say it really works for the whole "casting spells" but you're not in Harry Potter land everyday so go for gold!
Have you been shopping recently?